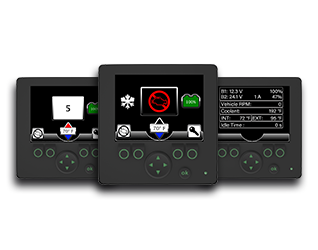 The IMS controller is the "brain" of the system. The controller receives data from the vehicle through the Controller Area Network (CAN) as well as the sensors within the Idle Mitigation System (IMS). It processes information on engine revolutions, transmission status, battery voltage, coolant temperature, engine hours, interior and exterior climate, and hood position. The controller takes all of this information and decides when the vehicle can be shut down to avoid idle or when it needs to be running to meet the criteria set in the program, as well as, by the operator's input.
The screen provides the interface between the operator and the IMS, displays the status of the vehicle, provides climate control and accesses any additional options within the system. The screen interface is only accessible when the vehicle is in park or neutral, making it a hands-free device.
Additional features include:
ZeroKEY(™) allows secure use of the HVAC and onboard electronics without the use of the chassis ignition key.
ZeroIDLE(™) previents the IMS from automatically starting the engine in "no-idle" zones. The operator can be notified by an optional buzzer, backup alarm, or voice annunciator.